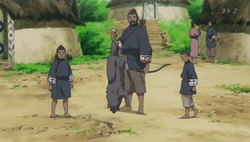 Toumi Village is a small Yaku settlement located well off the beaten path in the realm of New Yogo. It is considered one of the few places where many old Yaku customs are still practiced.
It was here that Balsa, Chagum, Tanda, and Madame Torogai traveled in order to learn more about the egg inside Chagum.
References
Edit
Ad blocker interference detected!
Wikia is a free-to-use site that makes money from advertising. We have a modified experience for viewers using ad blockers

Wikia is not accessible if you've made further modifications. Remove the custom ad blocker rule(s) and the page will load as expected.