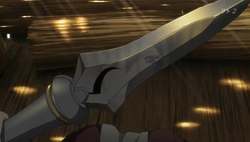 Balsa's Spear is Balsa's primary weapon in the Moribito series. In the anime series, her return to New Yogo comes as a result of it needing to be repaired by the original Blacksmith who forged the weapon.
Because she is suddenly forced into accepting the commission of protecting Prince Chagum, Balsa puts off getting the spear repaired and it breaks during her first major encounter with the Hunters. The spear's blade is completely reforged by the original blacksmith afterward.
References
Edit
Ad blocker interference detected!
Wikia is a free-to-use site that makes money from advertising. We have a modified experience for viewers using ad blockers

Wikia is not accessible if you've made further modifications. Remove the custom ad blocker rule(s) and the page will load as expected.